A community where everyone is known, cherished, and has a place to call home.
Join the #Givingtuesday Movement on Tuesday, November 28th!
Join our team! View open positions and apply through Indeed below.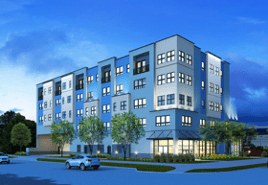 Lamb Center Media Contact:
Tara Ruszkowski
Executive Director
TaraRuszkowski@thelambcenter.org
Fairfax City Council Approves Special Use Permit for The Lamb Center - Wesley Housing Permanent Supportive Housing Community
Fairfax, VA December 15, 2022: Fairfax nonprofit homeless services provider The Lamb Center and leading nonprofit affordable housing developer Wesley Housing are thrilled to announce that the Fairfax City Council unanimously approved the Special Use Permit for the 54-unit Permanent Supportive Housing (PSH) community on Tuesday, December 12th.
The Special Use Permit will enable the redevelopment of the Hy-Way Motel site (9640 Fairfax Blvd, Fairfax, VA) into a five-story residential/mixed-use community with 54 apartments and office space on the ground floor of the building. This community will be the largest permanent supportive housing development in Northern Virginia and the first of its kind with this level of density. This property will mainly house people who are homeless that are older adults and/or have disabilities with very low incomes, likely, at or below 15% of the Area Median Income ($14,955 for a single person, HUD 2022).
Get Updates & Stay Informed
The Lamb Center is a daytime drop‐in resource center for individuals who are experiencing homelessness in Fairfax, Virginia. We provide breakfast, lunch, showers, laundry service, Bible studies, employment opportunities, housing and job counseling, AA meetings, a nurse practitioner clinic, a dental clinic, and much more. Our emphasis is on providing a community of fellowship, support, empowerment, and learning together.